Natural Circulation Support
Our three-part system includes: Vibrant & Clear Phospholipid™ Wafers, which have been clinically proven to enhance the potential of the cells mitochondria. By enhancing these cell walls, the nutrients DAILYMetrix™ delivers to your cells will be more effectively utilized. Finally, the addition of CIRComplete™ will supply the support to enhance circulation.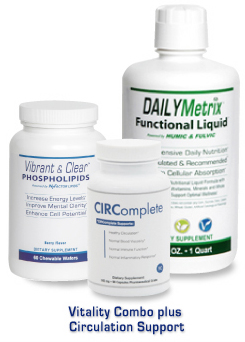 This scientifically matched supplement combination will help set a solid foundation, enabling you to thrive throughout your day and also address more difficult wellness issues. Your food and supplement protocols will be enhanced as these products have the ability to increase cellular absorption and provide full spectrum nutrients not found in typical diets. This system is commonly referred to as ENHANCE YOUR CELLS, FEED YOUR CELLS and FOCUS ON YOUR ISSUE.
ENHANCE YOUR CELLS...
V&C Phospholipid™ Wafers Provide Daily
Membrane Lipid Replacement (MLR)
Anti-oxidants can be effective at neutralizing free radicals that damage membranes. However, when damage is already done, traditional antioxidants have no ability to repair that damage. Now, the lipids available in Vibrant & Clear Phospholipid Wafers enhance the damaged phospholipids in the cell membranes with vibrant healthy phospholipids. These lipids enhance the potential of the cells mitochondria which allows the cells to process nutrients more effectively. Vibrant & Clear Phospholipid Wafers are an essential component to any nutritional supplement protocol. Proper nutrient processes are important in supporting a healthy, functioning system.
View Label Here
FEED YOUR CELLS...
DAILYMetrix™ Functional Liquid Multi-Vitamin,
Multi-Mineral and Wholefood Complex
Our powerful formula contains 310 of the Earth's finest nutritional ingredients including all the Natural Vitamins, 74+ Natural Ionic Minerals, Amino Acids, Phytonutrients, Whole Foods, Digestive Enzymes, Fatty Acids, Herbal-Botanical Elements and More... DAILYMetrix uses nature's own technology, a super-concentrated Humic and Fulvic Acid powerhouse to deliver directly to the cells a full spectrum, cell-ready nutrition, which helps to support your life, health and wellness. DAILYMetrix provides a full-spectrum, NON-GMO, whole food wellness in liquid form. The independent group, The Physicians Desk Reference advises vitamins are 98% absorbed in liquid form but only 20% in pill form.
View Label Here
FOCUS ON ENHANCING CIRCULATION...
CIRComplete: Fibrin Defense
CIRComplete supports healthy levels of EBP's (Endogenous Blood Particles). EBP's are made up of decayed cells, fibrin, fatty proteins, and other unwanted materials that normally build up in the blood. The systemic enzymes that are found in CIRComplete support the natural purification of EBP's. These systemic enzymes also assist in maintaining healthy liver function and healthy inflammatory levels.
CIRComplete will help you Achieve Healthy Circulation with Normal Blood Viscosity.
View Label Here
ORDER TODAY
U.S.A. Orders Only
• Select Your Package Option •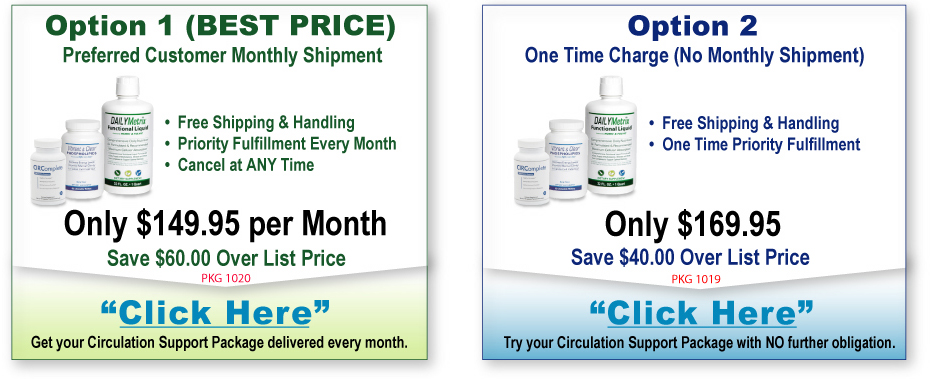 By Clicking Either Order Button Above You Agree to the Terms of Agreement. Click for Terms
ORDER BY PHONE AT: (800) 950-0387
Synergistic Effects: Natural Circulation Support

Comprehensive Vitality Package

While CIRComplete is a superior product to promote healthy circulation, you will receive maximized benefits by setting a cellular foundation for nutrient transport with Vibrant & Clear Phospholipids along with the Humic, Fulvic and other nutrients found in DAILYMetrix.
There are additional mechanisms found in Vibrant & Clear Phospholipids and DAILYMetrix that help support healthy circulation.
Vibrant & Clear Phospholipid Wafers are a proprietary blend of phospholipids and glycolipids whose mechanism of action is to replace the lipids in cellular membranes therefore increasing cell membrane fluidity. By enhancing the membranes of the mitochondria (the energy furnaces within our cells), allows all cells to increase their nutrient uptake so that the mitochondria may produce more ATP — the body's energy fuel. Better use of nutrients and elimination of waste supports proper circulation.
DAILYMetrix provides a comprehensive nutrient profile important to everyone interested in overall health and helping to support healthy circulation. Starting with all the Natural Vitamins, 74+ Natural Ionic Minerals, Amino Acids, Phytonutrients, Whole Foods, Digestive Enzymes, Fatty Acids, Herbal-Botanical Elements is an essential first step.
The DAILYMetrix formula also contains herbal and botanical components well-known for their ability to help give our metabolic level a boost: The Humic and Fulvic in DAILYMetrix help to oxygenate the blood, so more oxygen is available for our cells to carry out normal energy production (no lactic acid) for our body. Blood oxygenation also allows the blood to carry more acidic CO2 (the primary acidic by-product in aerobic energy production) to the lungs that we release when we exhale. Proper blood oxygenation also boosts our metabolism so we feel even more energized…and as more oxygen is delivered to our brains, our mental clarity and alertness skills are heightened.
Humic and Fulvic and their Minerals play a key role in the regulation of blood pressure, blood pH for proper oxygenation and normal heart contractility. Humic and Fulvic naturally carry all the minerals in their proper proportion that our cardiovascular systems need to function optimally. Many people with hypertension report blood pressure normalization after starting to take Humic and Fulvic. Also, Humic and Fulvic safely remove "mineral metals" from our bloodstreams and other cardiovascular tissues that can contribute to arterial plaques.
The DAILYMetrix formula also contains herbal and botanical components well-known for their ability to help give our cardiovascular and lymphatic systems a boost: Acai Berry antioxidants, fiber and heart-healthy fats, Co-Q10, and Hawthorn Berry, help fight heart disease and promote heart health. Essential Fatty Acids are fats the body needs to maintain good health. They are also fats the body cannot make and so, must come from the diet. Glycerine USP, Flax Oil (rich in omega 3 and omega 6 fatty acids) Studies show that Omega-3 and Omega -6 fatty acids help lower cholesterol and blood triglycerides, and prevent clots in arteries, which may result in strokes, heart attacks and thromboses.  Helps protect the body against high blood pressure, inflammation, water retention, sticky platelets and lowered immune function. Helps prevent Atherosclerosis (the accumulation of fatty deposits inside the blood vessels, especially the large and medium-sized arteries).
The Synergistic Effects of the Healthy Circulation Vitality Package offer the individual a three product, overall health and well-being package with a focus on supporting healthy circulation.
Easy to Follow Protocol:
DAILYMetrix: 1 ounce of pleasant tasting liquid per day taken before meals.
Vibrant & Clear Phospholipid Wafers: 2 delicious "Berry Flavored" chewable wafers taken anytime during the day, either together or separately.
CIRComplete: 1 capsule, three times per day taken before meals.
It's that simple. It only takes 5 minutes per day!
IMPORTANT PROGRAM "PROTOCOL" INFORMATION: Taking the supplements before meals (1 Minute to 1 Hour Before) will ensure the maximum effectiveness for each formulation and will assist with your protocol compliance. Taking with food is also fine if you experience stomach upset. Establishing a disciplined routine will prevent you from falling behind on your monthly supplies. This is especially important when you are on one of our Auto-ship packages.
---
Some people feel results in the first few weeks depending on their condition(s). For best results consider a minimal three-month commitment.
For optimal results and lasting effects consider a longer duration. Most of our customers are lifetime members. They not only receive wonderful products but world-class customer service.
This is a scientific, comprehensive approach to optimal circulation. Taken together, these three supplements are scientifically combined to offer the best nutrients to address your current issues and for a healthy and vibrant aging process.