Anti-Aging and Cellular Defense
Our three-part system includes: Vibrant & Clear Phospholipid™ Wafers, which have been clinically proven to enhance the potential of the cells mitochondria. By enhancing these cell walls, the nutrients DAILYMetrix™ delivers to your cells will be more effectively utilized. Finally, the addition of DNA360 will supply the support needed for natural DNA Repair which will significantly help immunity and Healthy Aging.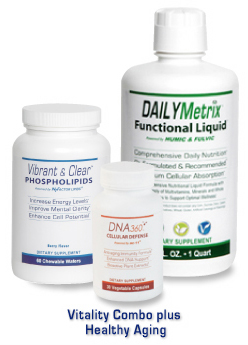 This scientifically matched supplement combination will help set a solid foundation, enabling you to thrive throughout your day and also address more difficult wellness issues. Your food and supplement protocols will be enhanced as these products have the ability to increase cellular absorption and provide full spectrum nutrients not found in typical diets. This system is commonly referred to as ENHANCE YOUR CELLS, FEED YOUR CELLS and FOCUS ON YOUR ISSUE.
ENHANCE YOUR CELLS...
V&C Phospholipid™ Wafers Provide Daily
Membrane Lipid Replacement (MLR)
Anti-oxidants can be effective at neutralizing free radicals that damage membranes. However, when damage is already done, traditional antioxidants have no ability to repair that damage. Now, the lipids available in Vibrant & Clear Phospholipid Wafers enhance the damaged phospholipids in the cell membranes with vibrant healthy phospholipids. These lipids enhance the potential of the cells mitochondria which allows the cells to process nutrients more effectively. Vibrant & Clear Phospholipid Wafers are an essential component to any nutritional supplement protocol. Proper nutrient processes are important in supporting a healthy, functioning system.
View Label Here
FEED YOUR CELLS...
DAILYMetrix™ Functional Liquid Multi-Vitamin,
Multi-Mineral and Wholefood Complex
Our powerful formula contains 310 of the Earth's finest nutritional ingredients including all the Natural Vitamins, 74+ Natural Ionic Minerals, Amino Acids, Phytonutrients, Whole Foods, Digestive Enzymes, Fatty Acids, Herbal-Botanical Elements and More... DAILYMetrix uses nature's own technology, a super-concentrated Humic and Fulvic Acid powerhouse to deliver directly to the cells a full spectrum, cell-ready nutrition, which helps to support your life, health and wellness. DAILYMetrix provides a full-spectrum, NON-GMO, whole food wellness in liquid form. The independent group, The Physicians Desk Reference advises vitamins are 98% absorbed in liquid form but only 20% in pill form.
View Label Here
FOCUS ON ANTI-AGING & CELLULAR DEFENSE...
DNA360™ Natural DNA Repair & Immunity Support
DNA360™ is a next level healthy aging andn immunity support supplement. With a myriad of products coming to market in the last 5 years based on scientific discoveries that protect DNA with targeted anti-oxidants, DNA360™ goes beyond protecting DNA to the point of actually enhancing your body's ability to repair both single strand and double strand DNA damage.
From conception through maturity, DNA repair is an essential biological process and the key to healthy aging. The ac11® herbal extract found in DNA360™ is a breakthrough in phytonutrient science and simply enhances the body's natural DNA repair capacities.
View Label Here
ORDER TODAY
U.S.A. Orders Only
DNA360 is Temporarily Unavailable
We are currently revamping the DNA360 formulation.
We will send out emails updating our progress.
ORDER BY PHONE AT: (800) 950-0387
Synergistic Effects: Anti-Aging

Comprehensive Vitality Package

While DNA360™ is a superior product to promote healthy aging, you will receive maximized benefits by setting a cellular foundation for nutrient transport with Vibrant & Clear Phospholipids along with the Humic, Fulvic and other nutrients found in DAILYMetrix.
There are additional mechanisms found in Vibrant & Clear Phospholipids and DAILYMetrix that promote healthy aging.
Vibrant & Clear Phospholipids in itself is an anti-aging product. Clinical studies have shown our lipids to restore mitochondrial function in an aging population to the function found in persons in their thirties.
DAILYMetrix provides a complete nutrient profile important to everyone interested in healthy aging. Starting with all the Natural Vitamins, 74+ Natural Ionic Minerals, Amino Acids, Phytonutrients, Whole Foods, Digestive Enzymes, Fatty Acids, Herbal-Botanical Elements is an essential first step.
In particular DAILYMetrix supplies MSM, Lycium, Ginseng, Vitamin C to support collagen production needed for healthy skin and a youthful appearance. Collagen is highly sensitive to acids and breaks down easily, contributing to premature aging. Wild Bilberry: Long known for its beneficial effect on vision and eye health, and contains five Anthocyanins (antioxidants). Wolfberry, Lutein, Zeaxanthin, Carotenoids and other ingredients to promote eye health. Blueberries and raspberries also contain Lutein, important for healthy vision. A host of antioxidants also support a youth and vitality.
The Synergistic Effects of the Anti-Aging Comprehensive Vitality Package offers the individual a three product, overall health and well-being package with a focus on more vibrant aging.
More About How These Products Work Together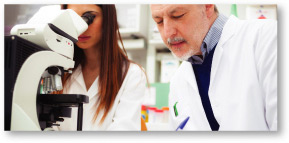 We take supplements for nutritional support and antioxidant protection but no supplement can protect all of our cells from becoming damaged. Damaged cells can lead to feeling tired at certain times of the day and have an adverse effect on the ability of the body to use nutrients effectively. This can also lead to a multitude of disease states. Vibrant & Clear Phospholipid Wafers with the NT Factor® nutrient compound is scientifically proven to enhance the potential of the cells mitochondria.
One key study showed the biological cellular health of 70-year-old people were returned to that of individuals 35 years of age. One of the world's leading experts in cellular research considered this to be one of the most important medical breakthroughs of the 21st century and defined this as "Membrane Lipid Replacement" (MLR). Cellular rejuvenation by enhancing the cells mitochondria improves normal nutrient transport, so it is very important to offer cells the vital nutrients necessary to thrive. This is necessary for overall health and vitality. By taking DAILYMetrix, which is superior to any other multi-vitamin, mineral nutritional supplement or health system on the market, you will be able to feed your cells the vital nutrients they need to thrive and support almost all bodily functions.
This package has the added power of DNA360™ to further address issues involved while we all age. DNA360™ assists the body's natural mechanisms for repairing DNA. The more efficient our body can repair DNA, the healthier we tend to be and the longer we tend to live. Accumulated DNA damage creates less healthy generations of new cells. This, in turn, precipitates reduced functional health and energy, while at the same time accelerating the aging process.
DNA360™ increases the effectiveness of other nutrients. This benefit is derived from ac11® found in DNA360™ creating more efficient cell to cell communication precipitated by optimal viscosity in the membrane of the cells in our body.
DNA360™ is also shown to support Apoptosis. Apoptosis is the death of cells that occurs as a normal and controlled part of an organism's growth or development. This is very important because, in multicellular organisms, cells that are no longer needed or are a threat to the organism need to be destroyed. DNA360™ has been researched using the thiol test and was found to significantly improve serum thiol values when taken orally. Thus, DNA360™ helps to clean up the accumulated DNA damage and the body, in its wisdom, will remove the most recent damage first. This helps to restore functional health and energy.
Among other effects, DNA360™ promotes certain DNA repair functions in the cell. Although the exact mechanisms of action are not completely understood, our scientists believe when the body is subjected to stress that may affect the integrity of the DNA, ac11® helps activate enzymes that are instrumental in the repair processes. In a series of peer reviewed scientific and clinical studies conducted by third party laboratories and university medical centers, we have shown that ac11® helps the body's natural ability to repair DNA.

Each of these three products has positive effects on anti-aging and youthful vitality. Taken together they could have a profound effect on the cellular level and offer the body benefits far beyond your intended goals. Including: Enhanced Mitochondrial Function, More Natural Energy, Better Nutrient Transport, Increase Memory and Mental Alertness, Healthy pH Levels, Metabolic & Blood Oxygenation Support, Organ Cleanse & Detoxification, Musculoskeletal & Joint Support, Digestive System & Colon Support, Heart, Cardiovascular & Lymphatic Support, Immunity and more.
Easy to Follow Protocol:
DAILYMetrix: 1 ounce of pleasant tasting liquid per day taken before meals.
Vibrant & Clear Phospholipid Wafers: 2 delicious "Berry Flavored" chewable wafers taken anytime during the day, either together or separately.
DNA360: 1 capsule, once a day taken before any meal.
It's that simple. It only takes 5 minutes per day!
IMPORTANT PROGRAM "PROTOCOL" INFORMATION: Taking the supplements before meals (1 Minute to 1 Hour Before) will ensure the maximum effectiveness for each formulation and will assist with your protocol compliance. Taking with food is also fine if you experience stomach upset. Establishing a disciplined routine will prevent you from falling behind on your monthly supplies. This is especially important when you are on one of our Auto-ship packages.
---
Some people feel results in the first few weeks depending on their condition(s). For best results consider a minimal three-month commitment.
For optimal results and lasting effects consider a longer duration. Most of our customers are lifetime members.
They not only receive wonderful products but world-class customer service.
This is a scientific, comprehensive approach to optimal blood sugar and weight control. Taken together, these three supplements are scientifically combined to offer the best nutrients to address your current issues and for a healthy and vibrant aging process.
DNA360 is Temporarily Unavailable
We are currently revamping the DNA360 formulation.
We will send out emails updating our progress.