VITALITY COMBO
This potent supplement combination will set a solid foundation, enabling you to thrive throughout your day and also address more difficult wellness issues. Your food and supplement protocols will also be enhanced by these two products ability to increase cellular absorption and provide full spectrum nutrients not found in typical diets. These two products are an essential part of all our Vitality Combo Plus Packs.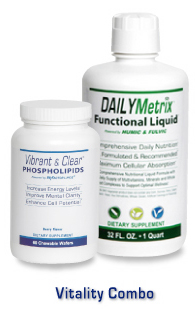 ENHANCE YOUR CELLS...
V&C Phospholipid™ Wafers Provide Daily
Membrane Lipid Replacement (MLR)
Anti-oxidants can be effective at neutralizing free radicals that damage membranes. However, when damage is already done, traditional antioxidants have no ability to repair that damage. Now, the lipids available in Vibrant & Clear Phospholipid Wafers replace the damaged phospholipids in the cell membranes with vibrant healthy phospholipids. These lipids enhance the potential of the cells mitochondria which allows the cells to process nutrients more effectively. Vibrant & Clear Phospholipid Wafers are an essential component to any nutritional supplement protocol. Proper nutrient processes are important in supporting a healthy, functioning system.
Enhance Cellular Function

We have over 15 years of proven research to show its overall effectiveness in aiding proper cell function through Membrane Replacement Therapy. Pivotal studies have been conducted at UCLA, Henry Ford Hospital, The Institute for Molecular Medicine and others.

Vibrant & Clear Phospholipid Wafers are a proprietary blend of phospholipids and glycolipids whose mechanism of action is to enhance cellular membranes by increasing cell membrane fluidity. By enhancing the membranes of the mitochondria (the energy furnaces within our cells), we allow all of our cells to increase their nutrient uptake so that the mitochondria may produce more ATP — the body's energy fuel.
View Label Here
FEED YOUR CELLS...
DAILYMetrix™ Functional Liquid Multi-Vitamin,
Multi-Mineral and Wholefood Complex
Our powerful formula contains 310 of the Earth's finest nutritional ingredients including all the Natural Vitamins, 74+ Natural Ionic Minerals, Amino Acids, Phytonutrients, Whole Foods, Digestive Enzymes, Fatty Acids, Herbal-Botanical Elements and More... DAILYMetrix uses nature's own technology, a super-concentrated Humic and Fulvic Acid powerhouse to deliver directly to the cells a full spectrum, cell-ready nutrition, which helps to support your life, health and wellness. DAILYMetrix provides a full-spectrum, NON-GMO, whole food wellness in liquid form. The independent group, The Physicians Desk Reference advises vitamins are 98% absorbed in liquid form but only 20% in pill form.

Why Humic and Fulvic

The 310 ingredients found in DAILYMetrix are very different from taking typical vitamin and mineral supplements.
The amount of any specific ingredient in DAILYMetrix you would need to take would be much less than the amount supplied by any typical capsule, tablet or liquid supplement to have the same effect.
WHY? Since the Humic and Fulvic Acid found in DAILYMetrix are Nature's own delivery system to the cells, nutrients can actually be delivered to the cell to participate in all the biochemical processes that take place inside the cell to support life-giving functions. If nutrients don't make it to the cell, it's like you never took them at all.
View Label Here
ORDER TODAY
U.S.A. Orders Only
• Select Your Package Option •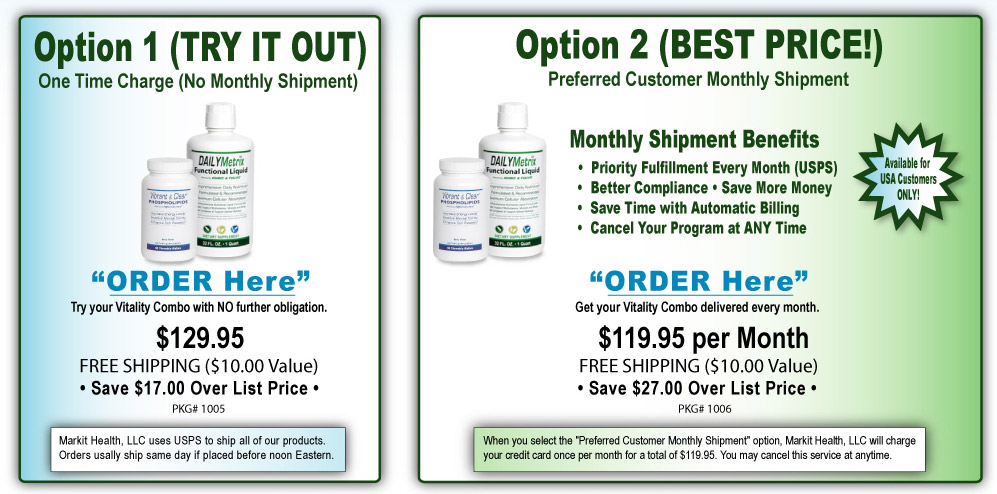 By Clicking Either Order Button Above You Agree to the Terms of Agreement. Click for Terms
ORDER BY PHONE AT: (800) 950-0387
PACKAGE SYNERGY...
Synergy is defined as: the interaction or cooperation of two or more substances or other agents to produce a combined effect greater than the sum of their separate effects.
Getting a full complement of high quality nutrients into the body is one thing, getting the body to fully metabolize these nutrients is something else altogether.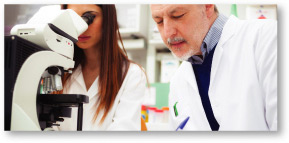 At the core of all our Comprehensive Vitality Packages are Vibrant & Clear Phospholipid Wafers and DAILYMetrix a Liquid Multi-Vitamin, Multi-Mineral and Wholefood Complex. These two products reset the body into a healthy state and many clients find their specific issues can be resolved simply by bringing the body back into a state of homeostasis. By adding a condition specific formula to directly address more pressing issues many people can increase results and reduce healing time. View Our Comprehensive Vitality Packages  "Click Here"

Both of these products are necessary to set the foundation for proper nutrient uptake. Taken together they have a profound effect on the cellular level and offer the body benefits far beyond your intended goals. Including: Repaired Mitochondria, More Natural Energy, Better Nutrient Transport, Increase Memory and Mental Alertness, Healthy pH Levels, Metabolic & Blood Oxygenation Support, Organ Cleanse & Detoxification, Musculoskeletal & Joint Support, Digestive System & Colon Support, Heart, Cardiovascular & Lymphatic Support and more.
Easy to Follow Protocol:
DAILYMetrix: 1 ounce of pleasant tasting liquid per day taken before meals.
Vibrant & Clear Phospholipid Wafers: 2 delicious "Berry Flavored" chewable wafers taken anytime during the day, either together or separately.

It's that simple. It only takes 5 minutes per day!
IMPORTANT PROGRAM "PROTOCOL" INFORMATION: Taking the supplements before meals (1 Minute to 1 Hour Before) will ensure the maximum effectiveness for each formulation and will assist with your protocol compliance. Taking with food is also fine if you experience stomach upset. Establishing a disciplined routine will prevent you from falling behind on your monthly supplies. This is especially important when you are on one of our Auto-ship packages.
---
Some people feel results in the first few weeks depending on their condition(s). For best results consider a minimal three-month commitment.
For optimal results and lasting effects consider a longer duration. Most of our customers are lifetime members. They not only receive wonderful products but world-class customer service.
This is a scientific, comprehensive approach to body balancing and homeostasisl. Taken together, these three supplements are scientifically combined to offer the best nutrients to address your current issues and for a healthy and vibrant aging process.